Analysis & Testing
Fan & Pump Vibration Analysis
Fan and Pump Vibration Analysis identifies the root causes of equipment problems and helps prevent secondary damage to rotors, shafts and blades. Performing repairs before secondary damage occurs eliminates emergency repairs.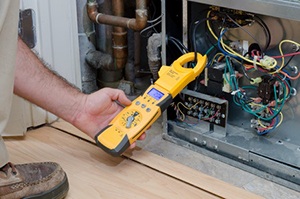 Vibration analysis also ensures that repairs have been made correctly when a post repair analysis is performed. Vibration analysis identifies misalignment, imbalance and worn bearings, as well as belt, sheave, structural and electrical problems. As much as 80% of bearing failures are due to balance and alignment problems, which force you to replace bearings more often than necessary, costing you money and downtime.
Eddy Current Tube Analysis
Eddy current testing is a non-destructive test of the heat exchangers within the chiller. It can detect inside diameter and outside diameter defects. The test also determines the severity of the defect and whether immediate action should be taken. We recommend this test be done every three to five years. We specialize in the inspection of installed heat exchanger tubing used in commercial air conditioning.
Chiller Vibration Analysis
The vibration analysis also should be done annually. This test indicates an imbalance, misalignment, bearing defects, open rotor bar conditions, gear wear, harmonics, and excessive shaft run-out.
Spectrochemical Oil Analysis
This test is used to analyze the constituent elements in particles of typically less than 5 micrometers in size. Selected metallic elements present in the oil are identified and measured in parts per million by weight. The elements are grouped into three main categories of Wear Metals, Contaminants and Additives from the base oil.  Some of  the particles removed during normal wear are small enough to remain suspended in the circulating oil. Since these wear products are composed of the same materials as the surfaces from which they originated, the level of each wear metal remaining in the used oil indicates the relative wear condition of the lubricated parts